Have more questions about Awair Business or any of our enterprise solutions? Review these frequently asked questions or
send us a message
to get the conversation started!
What is Awair Omni? What does it measure and what can it do?
Awair Omni is designed specifically for business. It tracks the five key factors that determine air quality: temperature, humidity, carbon dioxide, chemicals (VOCs), and dust (PM2.5). It has a touch sensitive and fully customizable display, with an 8-hour battery backup. It can be used to constantly monitor your air quality, and connects to your wireless network so it can be managed remotely. Omni maintains Awair's focus on elegant aesthetics while providing features and benefits to help your business thrive.
What are Omni's sensor specifications?
Omni utilizes enterprise-grade sensors to ensure accuracy and longevity. Full specs are below: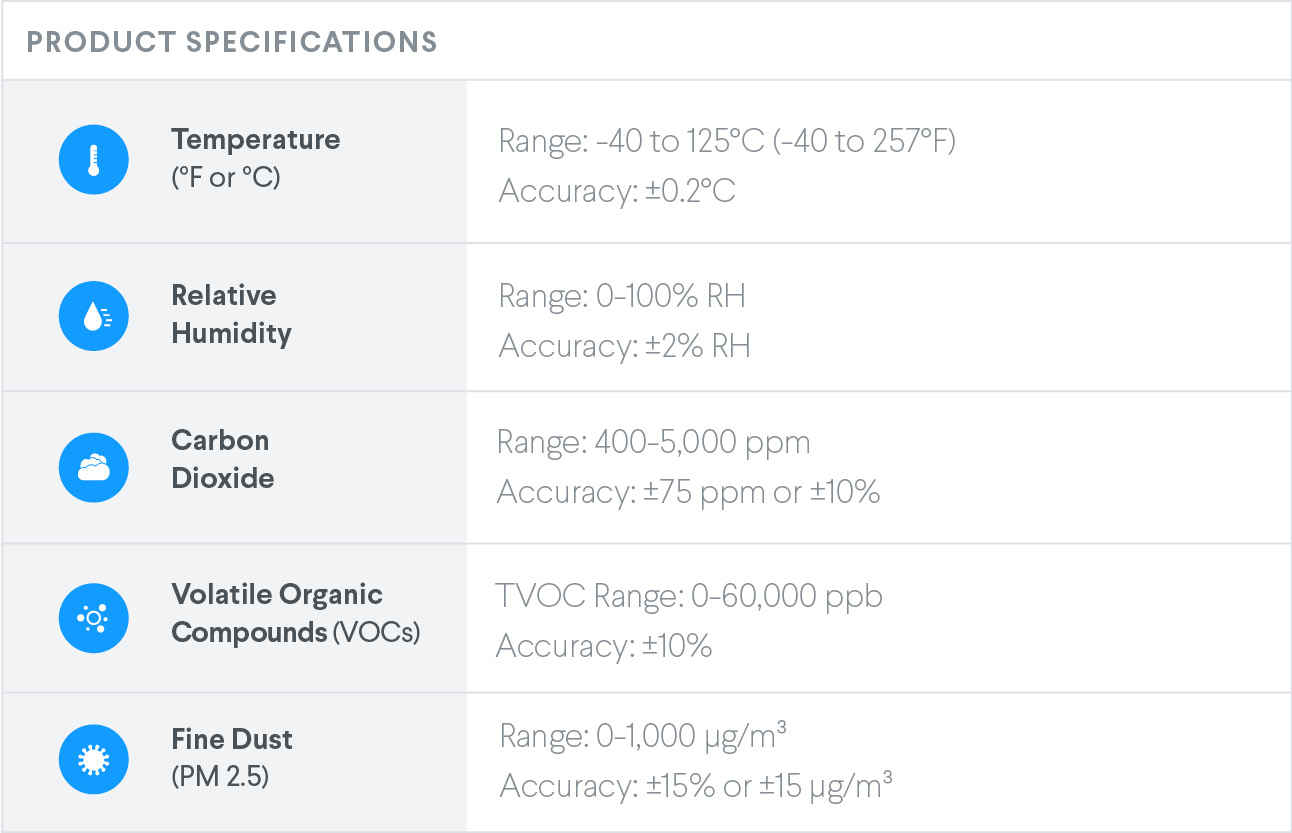 How many units do I need? How long does each Omni last?
Each Omni unit covers about 1,000 - 2,000 ft2 in open spaces. Since walls & doors will have an impact on the way air flows through your space, we recommend one per room to get the best information about your environment.
Depending on its operating conditions, Omni will last 3-7 years. Each Omni comes with a 1-year hardware warranty, and options for extended warranties are available.
How do I install Omni in my space?
The installation process is quick and easy! Each unit comes with a wall mount and a display stand for desks or tabletops so that it can be easily placed at breathing height. The wall mount includes two screws, and two drywall anchors for simple and secure installation into any wall.
We recommend selecting places close to a wall outlet, and to avoid corners of rooms, areas with lots of direct sunlight, and places within three feet of a vent.

Once your Omnis are placed, setting up each Omni takes about 2 minutes utilizing our iOS or Android app.
Can I customize the display?
Omni's display is fully customizable! You can choose between 7 display modes, including your Awair Score, or a specific air quality factor.  
You can also fully disable the display so that your Omni cannot be tampered with locally.
What are the system requirements?
Omni requires a constant Wi-Fi connection, and a smartphone with bluetooth (4.1) for installation.
Omni is compatible with 802.11 b/g/n connections, with 2.4GHz. The Awair App is compatible with iOS phones, running iOS 8 or later, and with Android phones, running Android 4.3 (Jelly Bean) or later.
If your network isn't compatible right now, we're currently developing solutions to expand our compatibility with a wider range of networks. Please
send us a message
to learn more.
What software services are available with Omni?
Awair Business clients have access to the Awair Dashboard and enterprise API.

Understand the health of your organization at a glance
The dashboard's color-coded Awair Status Indicator allows you to understand the real-time status of each of your Omnis at a glance. You can use the dashboard to compare air quality readings across multiple Omnis to understand trends and potential source problems.

Receive alerts when your air quality needs attention
The Awair Dashboard can send notifications when your Omnis recognize issues with your air. Enable notifications for all Omni sensors relevant to your goals, and we'll notify you if your air needs attention via email and through the notification panel in the dashboard.

Receive a weekly assessment of your organization's air quality
Awair will send you a Weekly Report outlining your air quality status from the previous week as well as an analysis on where there is room for improvement.
Full customization with our API
Our enterprise API can be used for customization, analytics, security, scalability, and building automation--the possibilities are endless. Our documentation is available by visiting our
Awair Business API Docs
.
Can I use the Awair Dashboard to manage my privacy settings?
The dashboard includes permissions and roles to share and limit access to the Omni units attached to your dashboard. It's fully customizable, so you'll have full control of which units each member will be able to view.
For example, if you're managing several buildings in several cities, you can choose to share the dashboard with the occupants of each building so they only see data for their specific location.    
How does Awair protect my personal and environmental data?
We take privacy very seriously, and work to ensure our data is secure. Awair's Platform is TRUSTe certified and vetted through third-party security audits. It employs 128-bit AES encryption and  is capable of supporting numerous encryption key exchange rules. You can also read more about our
Privacy Policy
, or
send us a message
to discuss the ways we can meet your business's specific privacy needs.
Where can I purchase Omni?
Omni is now available for Awair Business clients. If you're already a client and interested in purchasing Omni, please reach out to your sales representative.
To become a client or learn more about the program, please
send us a message
 to get the conversation started!