Article Summary:
This article introduces Glow to get to know more about the product and compares it to existing Awair 2nd Edition.
Article Overview:
Introducing Glow
Glow combines air quality monitoring technology with the functionality of a smart plug. Glow is a stand-alone, IOT device that monitors your home's temperature, humidity, CO2, and Volatile Organic Compound (VOC) levels. Glow can also respond to changes in these environmental factors by activating a device that is plugged into the smart plug, such as a humidifier, fan, or air purifier.
Glow's LED light will automatically change color to reflect the current air quality status as green (good), orange (fair), or red (poor). In addition to glancing at the device, users can access the Awair app to browse specific air quality data for each factor and view their aggregate Awair Score. The device also comes equipped with a customizable motion sensor and manual on and off switch. Glow can be integrated with major smart home automation systems such as Amazon Alexa, Google Home, and IFTTT. Users must download the Awair App for their iPhone or Android device to access their air quality data and the full range of Glow's features.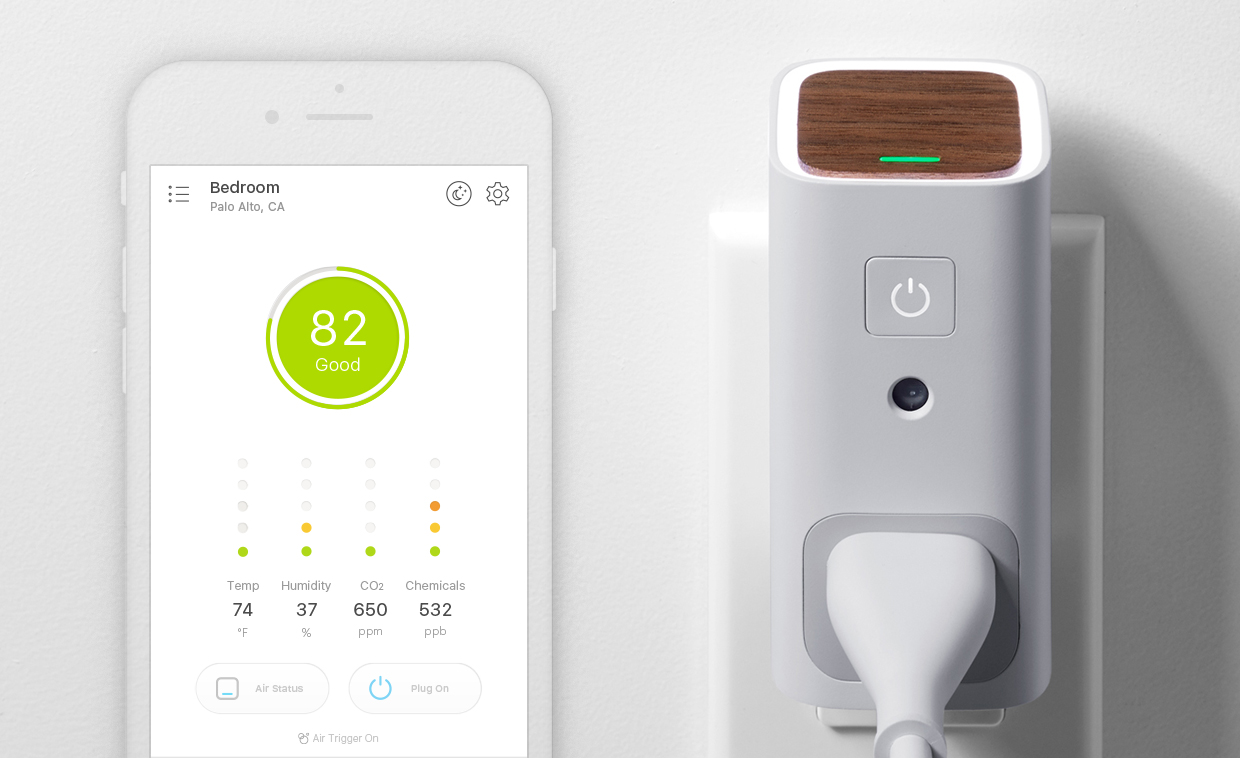 What is a Smart Plug?
A smart plug is a versatile device that plugs into an ordinary electrical outlet, but also connects to the internet. The smart plug can activate other devices, such as fans or humidifiers, that are not themselves connected to the internet. Smart plugs can turn these conventional devices "on" or "off" remotely, either from pre-set schedules, programmed triggers, or instructions from digital assistants like Amazon Alexa.
Awair 2nd Edition Versus Glow
Awair and Glow both provide sophisticated air quality monitoring and are managed via the Awair app. They are stand-alone devices that can operate independently or with other Awair and Smart Home devices. Both Awair and Glow are capable of monitoring approximately 1,000 square feet of indoor air.
Awair measures temperature, humidity, CO2, chemicals (VOCs), and fine dust (PM2.5) in your indoor environment. Glow measures temperature, humidity, CO2, and chemicals (VOCs), but does not measure fine dust (PM2.5).
Glow is also a smart plug. With Glow, you can automate your air quality management ecosystem by plugging a variety of devices into the Glow device. Glow will use incoming air quality data from its sensors to react to changes in your environment and maintain the highest Awair Score possible.
Awair does not have smart plug functionality, so it cannot trigger or interact with devices that are not already connected to the internet. That said, both Awair and Glow can be integrated with platforms such as Google Home, Amazon Alexa, and IFTTT, and can be incorporated into existing Smart Home setups.
Awair visually displays information about indoor air quality factors on its LED display and shows your overall Awair Score. In contrast, Glow displays your air quality status using a color-coded LED light. A green light means that your air quality is good, orange means fair, and red indicates poor air quality.
This product may not be available in all areas. Click here to check availability and purchasing options.