While information details are available on the Awair app, we display three things on the LED of the hardware device itself as well.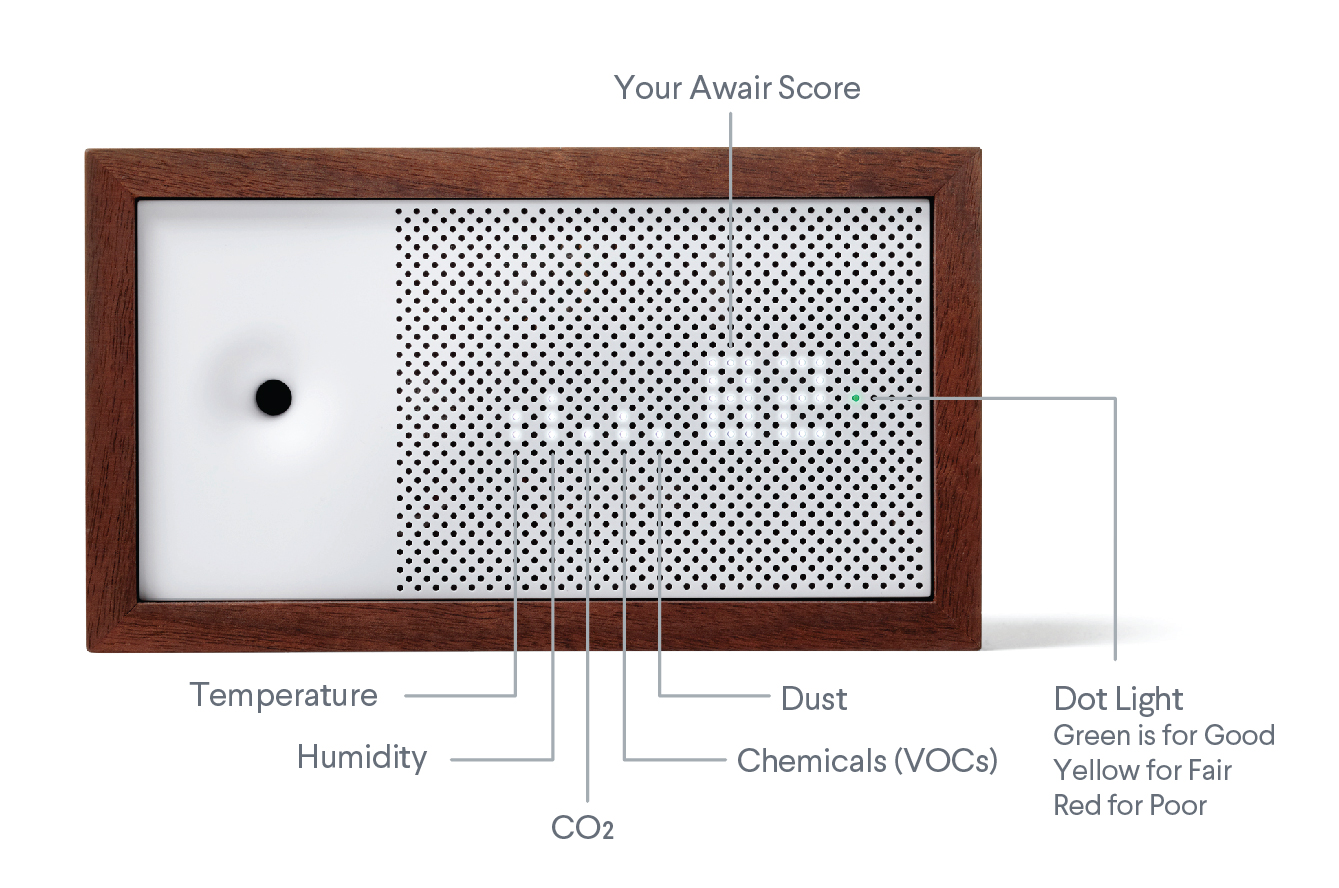 1) LED Colors: 
You will see a small LED dot on the front of Awair device. The color and behavior of the light indicates various states of the device. Followings are the detailed meaning of the LED dot. 
Color
Blue: Bluetooth specific

Purple: Wi-Fi specific

White: Any issue after the installation (detailed info will be displayed after 2min of self-diagnosis and an attempt to resolve it automatically)   
Status
Blinking: Searching, connecting, working, waiting

Solid: Found, connected, done, meaning the job is finished
Examples:
Blinking Blue: Finding Bluetooth

Blinking White: Internet connection is lost, attempting reconnection  

Solid White: The issue just got fixed

Solid Purple: Wi-Fi connected  
When using Awair, the dot LED colors help you understand the air quality in your room. 
Green: The LED dot glows green when the conditions in your place are OK.

Yellow: The LED dot glows yellow when something in your place is not quite right. Check the Awair app for details.

Red: The LED dot glows red when the conditions in your place are poor. Check the Awair app for details.
2) The Awair Score indicating overall air quality status
3) Dots indicating individual readings of Temperature/Humidity/CO2/VOC/Dust. The more number of dots means the farther away the readings are from the ideal conditions. 
4) Digital LED Clock
For more information, please read the LED Display and Knocking. 
This product may not be available in all areas. Click here to check availability and purchasing options.