Awair's display provides a snapshot of your current air quality, allowing you to quickly identify what's in your air. You can control what information your Awair displays from your Awair app. The four display modes are Dot Light, Awair Score, Clock Mode, & Temperature/Humidity. The default mode is Awair Score.
To adjust your display settings:
From the Awair app home screen, tap on your Awair
Tap on the gear icon in the upper-right corner
Tap Awair Display
Select your preferred mode, then tap done
Dot Light
The Dot Light mode is a minimalistic display, only showcasing your current air quality as Good, Fair, and Poor. The LED light will show Green for good air, Amber for fair, and Red for poor air quality.
Awair Score

The Awair Score mode is the default mode for your Awair's display. It shows you your current Awair Score, your Dot Light, and each sensor's index value (ranging from 1 to 5 dots). This mode helps you quickly identify what may be wrong with your air, so you can take action right away!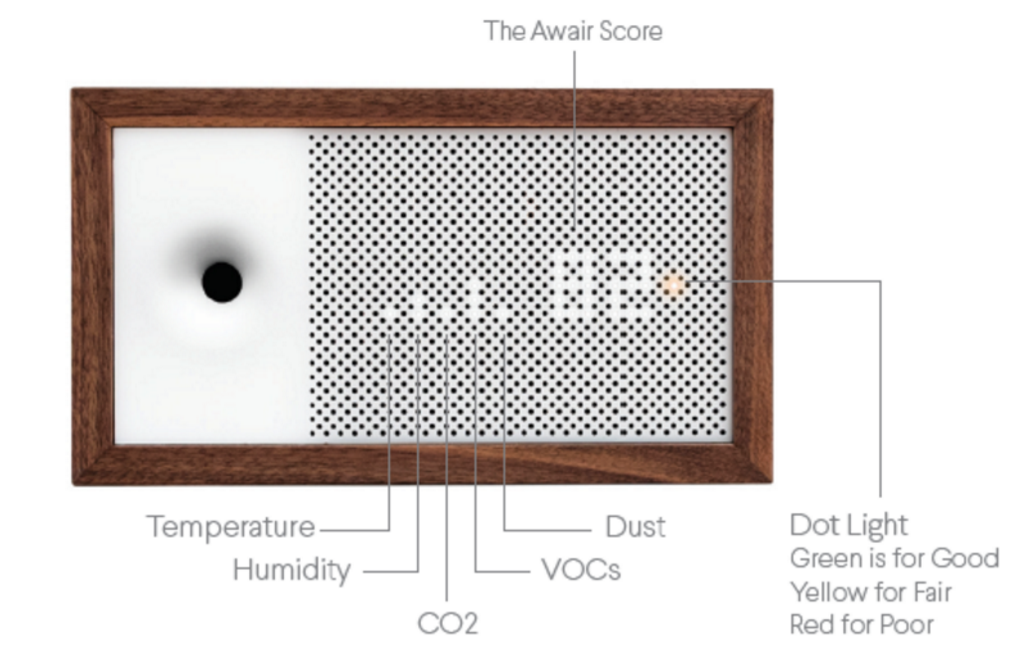 Clock Mode
With Awair in Clock Mode, the current time will be displayed on your Awair. Your Dot Light is still visible in this mode as well.
Temperature/Humidity
If you prefer to always know the current temperature and humidity levels, this mode is for you! This mode toggles between your current temperature measurement and current humidity measurement.
Your Display's Brightness
You can also adjust the brightness of Awair's Display by navigating to your Awair's Settings page. Max adjusts your brightness to the highest setting, Auto adjusts brightness to the light levels in your environment, and Sleep (Beta) will turn off the display when your lights are off.
To adjust brightness:
From the Awair app home screen, tap on your Awair
Tap on the gear icon in the upper-right corner
Tap LED Brightness
Select your preferred option, then tap done